IGTV is here. And it's Instagram's way of moving with the future as the Facebook-owned company looks to shake up the way that we consume video content. An estimated 78% of all mobile traffic will be in the form of video content by the year 2021. IGTV is Instagram's attempt to capitalize on and meet the demand of this changing consumer behavior.

Launched in late June, IGTV is clearly an attack on Youtube and has the potential to revolutionize the mobile video world. Here is what you need to know about this brand new platform.  
What is IGTV?
IGTV is a "mobile first" platform that can be accessed either directly through Instagram or through the standalone IGTV app. Focused on long-form video, IGTV enables all Instagram users to upload 10-minute videos, while large accounts are allowed up to one hour in length. However, Instagram says that in the future videos will not have a time restriction.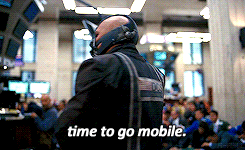 Credit giphy
How does it work?
All videos uploaded to IGTV appear full screen and in vertical format, making the platform very mobile friendly. The content that is shown in IGTV is curated according to your interests and the people that you follow. Additionally, a video begins playing immediately when you open the app, eliminating the need to search or browse for content. IGTV also stimulates engagement by allowing viewers to like, comment, and share.
How can your brand leverage IGTV?
The beauty of IGTV, in addition to its long-form nature, is that the platform is similar to Instagram stories in that it allows for a behind-the-scenes look into the everyday life of your brand. Videos uploaded to IGTV, like Instagram stories, are not designed to be as attention-grabbing and visually pleasing as normal posts (although they certainly can be). Rather, IGTV removes the pressure of perfection by providing a platform through which you can form deeper connections with your audience by creating long-form videos that tell your company's story and reveal the authenticity of your brand.

IGTV enables you to share your brand's message in virtually any way that you choose. So go and create meaningful relationships with your audience by leveraging this new tool!
Watch the video below (on your mobile!) to get the full immersive experience of IGTV videos!
Credit Youtube 
Want to find out how your brand can capitalize on IGTV but do not know where to start with? Or simply want some advice on the social media field?
We are here to help! Just drop us a message and the friendly social media experts at Tinkle, will be happy to help your brand get on track 😉